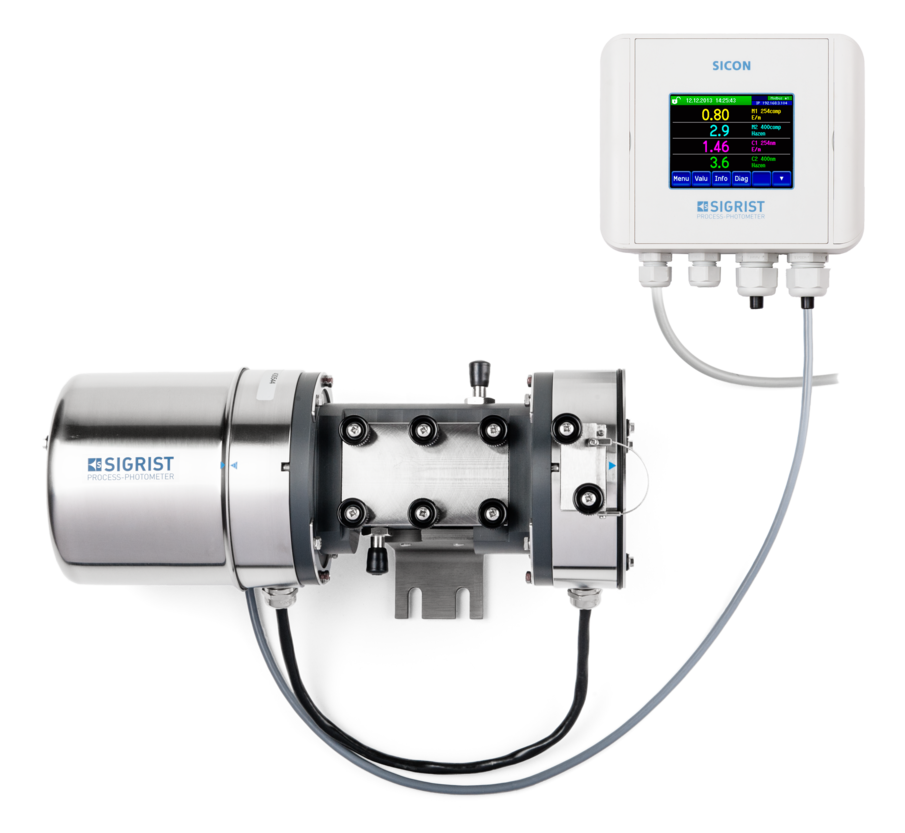 COLORPLUS 2 BYPASS
Xuất sứ: Thụy Sỹ
Nhà cung cấp: Pitesco
Hãng sản xuất: Sigrist photometer
Liên hệ tư vấn

Mr Hoàng

hoang@pitesco.com

0911.77.19.19

hoang_240
COLORPLUS 2 BYPASS
Absorption Measuring Instrument bypass
The ColorPlus measures the colour/absorbance online at up to three different wavelengths. The bypass measuring cell has been specifically designed for applications within the water industry. Depending on the configuration it allows measuring DOC (UV absorption) and colour (Hazen) simultaneously and to compensate turbidity. Soiling of the flow cell is measured by means of a compensation glass in the interior of the flow cell. The effect of cell soiling is greatly reduced internally; constant and precise measured values are guaranteed. The user is alerted if the cell has to be cleaned. The cover of the flow cell can be opened without tools and allows simple access for cleaning the flow cell. For inspecting the instrument, checking units on the basis of reference filters can easily be inserted. Operation is done intuitive using the intelligent control system SICON via touch screen technology and colour display. Values, graphs, alarm and status messages can be presented. An internal data logger allows recalling and displaying measured data from the last 32 days. A variety of analogue and digital interfaces allows smooth system integration and control.
More…
Color/absorption measurement in liquids
Concentration measurement of substances by absorption at characteristic wavelengths
Calibration in E/m, APHA-Hazen, EBC, ASTM, Saybolt, etc.
SPECIFICATION
Measuring principle
Absorption
Nominal range
0 .. 3 E
0 .. 60 E/m
0 .. 420 Hazen @390nm
Scale ranges
8, freely configurable
Resolution
0.001 E
Enclosure
Stainless steel 304 / 1.4301
Protection
IP65
Flow cell material
PVC 100 mm / 50 mm
Sample flow rate
0.5 .. 1 l/min
Sample temperature
0 .. 50 °C
Sample pressure
600 kPA (6 bar)
Ambient temperature
-20 .. +50 °C
Weight
4.3 kg
Connections
Inlet / Outlet Ø 9 mm o.d.
Wavelengths UV
254 nm, 313 nm, 365 nm, 436 nm, 546 nm
Wavelengths VIS
365 nm, 380 .. 700 nm
Units
E, E/m, Hazen, GOST
Windows material
Borosilicate (VIS), Quartz (UV)
Seal material
EPDM
Control Units